Introduction
Guardian Services, a prominent online gaming services platform based in the United States, faced the formidable challenge of achieving online dominance in a highly competitive industry. The company's objectives were clear: increase organic website traffic significantly and secure a commanding presence for their primary keyword, "Guardians.Services." In pursuit of these goals, Guardian Services launched an aggressive SEO campaign that would redefine their online visibility and propel them to the forefront of the online gaming services sector. This case study provides an in-depth look at the company's remarkable journey, which, within just four months, resulted in a 30,000% increase in website traffic, a 220% surge in domain ranking, and the addition of 300% more new keywords to their online portfolio.
Client Overview
Company Name: Guardian Services
Solution Provided: Search Engine Optimization (SEO)
The Challenge
Guardian Services recognized the fierce competition within the online gaming services industry. To gain a competitive edge and capture the attention of their target audience, they needed to enhance their online presence significantly. Their primary challenges included:
Achieving substantial growth in organic website traffic.
Establishing dominance for their industry-specific keyword, "Guardians.Services."
Competing effectively in a saturated market.
Solution
Guardian Services embarked on an ambitious SEO campaign designed to address their unique challenges and position them as industry leaders:
Comprehensive SEO Strategy:

A meticulous keyword research process identified high-impact keywords relevant to the online gaming services niche.
On-page optimization was executed to improve search engine rankings and increase visibility.
Valuable and engaging content was produced to demonstrate expertise and engage visitors.



Technical SEO Enhancements:

Technical improvements, including website speed optimization and mobile responsiveness, were implemented to enhance user experience and comply with search engine algorithms.



Link Building and Authority Building:

A robust backlink strategy was put into action to enhance domain authority and credibility within the industry.



Continuous Monitoring and Adjustment:

The SEO campaign's performance was monitored closely, and adjustments were made to optimize results continually.
The Results
The results of Guardian Services' aggressive SEO campaign were nothing short of spectacular: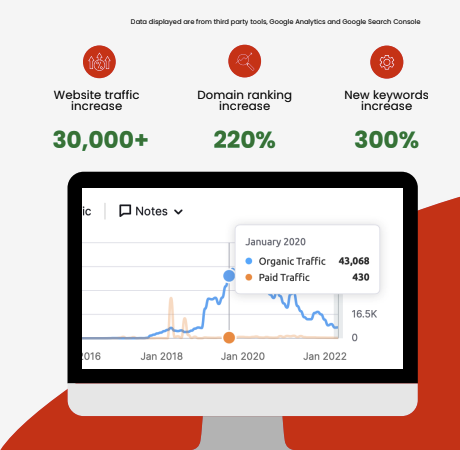 Website Traffic Increase:

The company witnessed an astonishing 30,000% increase in organic website traffic within just four months, showcasing the campaign's profound impact in attracting a larger and more relevant audience.



Domain Ranking Improvement:

Guardian Services' domain ranking soared by an impressive 220%, signifying their enhanced authority and relevance in the online gaming services sector.



Keyword Portfolio Expansion:

The website achieved recognition for 300% more new keywords than ever before, illustrating a significantly broadened reach and the ability to connect with a diverse range of potential clients.
Conclusion
Guardian Services' journey serves as a remarkable testament to the transformative power of strategic SEO campaigns. In a fiercely competitive industry, their outstanding success in boosting website traffic, domain ranking, and keyword recognition underscores the importance of digital marketing. This case study offers inspiration and guidance for businesses seeking to leverage SEO to achieve substantial growth, establish themselves as industry leaders, and dominate their respective niches in the digital landscape. Guardian Services' achievement exemplifies the immense potential of strategic SEO campaigns in propelling a company to the forefront of its industry.