Crafting Culinary Spaces with a Personal Touch: A Case Study
Introduction:
Total Kitchen Marketing's journey began in 1996 with a modest furniture workshop in Semambu Industrial Area, which blossomed into a customer-centric showroom in Kuantan a year later. With the objective of elevating professionalism and customer service in the kitchen industry, Total Kitchen established itself as a guiding force, transforming homeowners' dreams into reality. With over a quarter-century of experience, the dedicated team of "Home Engineers" at Total Kitchen offers customized kitchen space solutions for every style and budget.
Challenge:
Despite their rich history and commitment to customer satisfaction, Total Kitchen Marketing's digital presence wasn't fully serving up their unique selling points or their extensive catalogue of kitchen solutions.
Solution:
To simmer a narrative as rich as the kitchens they craft, Total Kitchen Marketing engaged in a brandscript consultation to weave a compelling story throughout their website. A WordPress website was designed and developed to serve as the cornerstone of their digital transformation.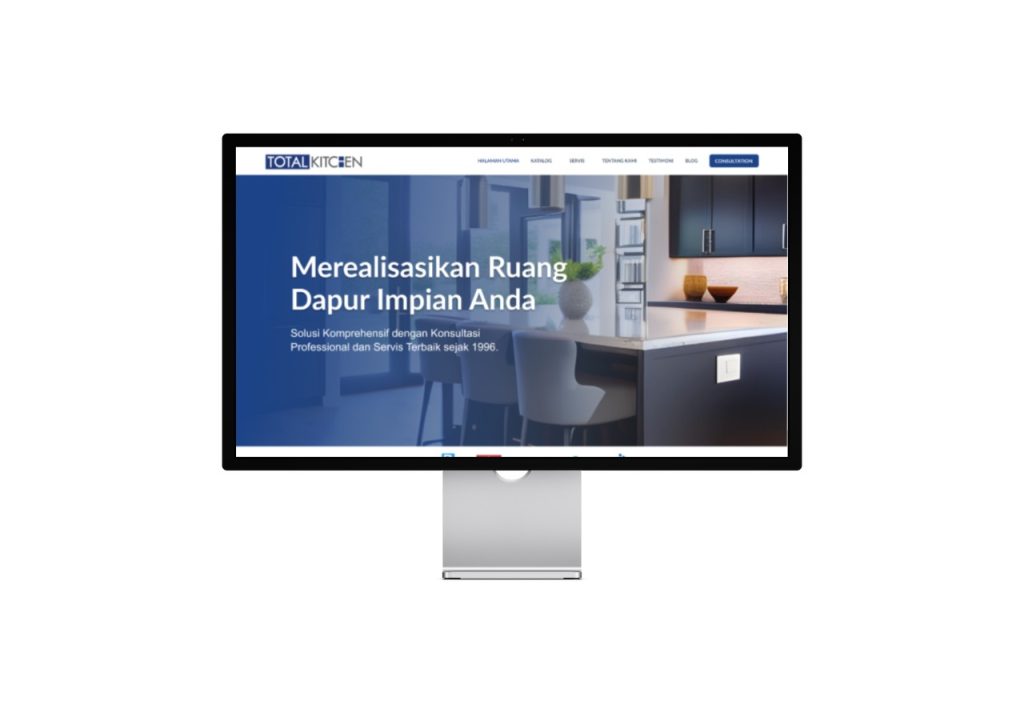 Design Process:
The renovation of Total Kitchen's online space followed a detailed blueprint:
Stakeholder interviews laid the foundation by identifying core objectives and unique selling propositions.
Thorough market research provided insights into customer needs and industry trends.
Wireframes were drafted to structure the user experience.
A user interface was designed, focusing on aesthetic appeal and ease of navigation.
Prototypes brought the vision to life, allowing for iterative feedback and refinement.
Development stitched together design and functionality.
Quality assurance polished the site to perfection, ensuring a seamless user experience.
Results:
The new website saw a robust increase of over 170% in organic traffic, a testament to the improved visibility and reach. Furthermore, the bounce rate halved, indicating that visitors found the new site more engaging and aligned with their search for the perfect kitchen space.
Conclusion:
Total Kitchen Marketing's website now mirrors the same quality and craftsmanship they pour into each kitchen space. This case study demonstrates the transformative power of a well-crafted digital strategy and the importance of a narrative that resonates with the audience.
Call to Action:
Ready to cook up a new digital strategy for your business? Visit our redesigned website and see how we can help you bring your vision to life, just as we did for Total Kitchen.